1916
---
Notes
The Grammy nominated 1916 album was the first studio album since 1987. That is the longest time span between any Motorhead studio albums. Some of the explanation was contractual disputes with their old label GWR. Now they finally had a contract with a new label and this time it was with a major label, Sony. The album was released on the subsiduary WTG.

Going To Brazil was first ever played live in Sweden in 1989 (Burridge, 2012, Live To Win).

I once saw this cassette on Ebay: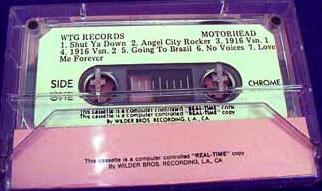 It was listed as a demo cassette. According to the song list there are two different versions of the song 1916. I donīt think the different version has been released anywhere else and I have so far never seen it on any bootlegs either.
Tracklist
The one to sing the blues
I'm so bad (baby I don't care)
No voices in the sky
Going to Brazil
Nightmare/The dreamtime
Love me forever
Angel city
Make my day
Ramones
Shut you down
1916
W o r l d w i d e r e l e a s e s, L P

Label

Catalogue no

Origin

Date

Notes

CBS
Future disc
USA?
1990-11-15
Acetate
WTG
467481 1
Holl
1991-02-02
WTG
467481 1
Holl
1991-01?
Promo
WTG
467481 1
Holl
1991-01?
Test pressing
WTG
467481 0
UK
1991-02?
Picture disc
WTG
467481 0
UK
1991-02?
Picture disc, Test pressing
WTG
N 46858
USA
1991-02-02
WTG
467481
Aus
1991-02-02
Columbia
70-158
Arg
1991-02-02
Columbia
70-158
Arg
1991-02-02
Promo
WTG
188.155
Bra
1991-02-02
WTG
188.155
Bra
1991-02-02
Promo
Bonton
7100361331
Czech
1991-02-02
WTG
467481-1
Gre
1991-02-02
WTG
467481-1
Gre
1991-02-02
Test pressing
WTG
467481 1
Spa
1991-02-02
WTG
467481 1
Spa
1991-02-02
Promo
WTG
LL 2007
Yug
1991-02-02
WTG
?
Yug
1991?
Reel-to-reel prod tape
Pure Pleasure
PPAN 467481
UK
2009-05
Gatefold, 180 g
Pure Pleasure
PPAN 467481
UK
2009-05
Test Pressing, Gatefold, 180 g
Back on Black
BOBV319LP
UK
2012-03
Clear vinyl
Back on Black
BOBV319LP
UK
2012-02?
Test Pressing
---
Contact | Back to main page